Kevin Michael Costner: actor, director and musician, honored with two Academy Awards, two Golden Globes, and one Emmy, plus countless nominations. His most famous movies are Dances with Wolves - which he co-directed, which was nominated for twelve (!!) and which won seven Academy Awards - JFK, Field of Dreams, Robin Hood: Prince of Thieves, Thirteen Days, and The Bodyguard. He'll be playing the role of Superman's adoptive father in the 2013 film Man of Steel. And if that wasn't enough, he has also founded and performed with his band Modern West since 2007.
He achieved full-blown movie star status for Costner arrived in 1987, when he starred as federal agent Eliot Ness inThe Untouchables and in the leading role of the thriller No Way Out. And in 2008, his hand and foot prints joined those of other celebrated actors and entertainers in front of Grauman's Chinese Theatre in Hollywood.
While in College, Costner began dating fellow student Cindy Silva, married her, and the two had three children together; the marriage lasted until 1994. Costner has another son from a short relationship following his divorce.
On September 25, 2004, Costner married his girlfriend of four years, German-American model and handbag designer Christine Baumgartner,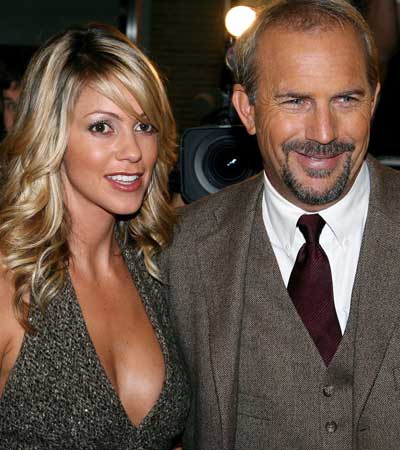 at his  165-acre Aspen, Colorado ranch on September 25, 2004. The wedding was planned by Yifat Oren at and was a four-day, Wild West-style celebration, including a baseball game, barnyard barbecue and mini rodeo.
Celebs Bruce Willis, Tim Allen and Don Johnson were among the 300 guests.
To begin the ceremony, the groom arrived in a horse drawn wagon, followed by the bride in a green antique truck driven by her father.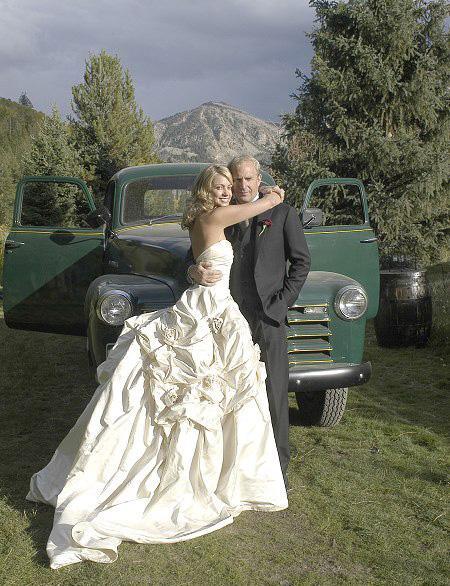 She walked down a wood plank aisle in Monique Lhuillier's Camelot dress, a ruched satin ballgown with handmade flowers, and carried a bouquet of deep red roses.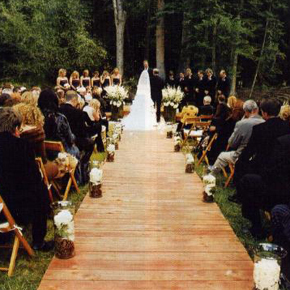 Kevin wore a dark grey cashmere suit by Ralph Lauren with a grey and white polka dot tie and a red rose boutonniere.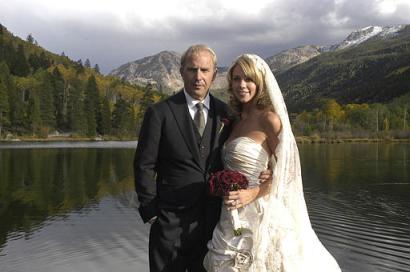 The couple exchanged vows under an altar constructed of two floral columns of white delphiniums and hydrangeas. The 20-minute Christian ceremony was officiated by Baumgartner's pastor.
Following the vows, the newlyweds went on a canoe ride on the property's lake and shared a few private moments together.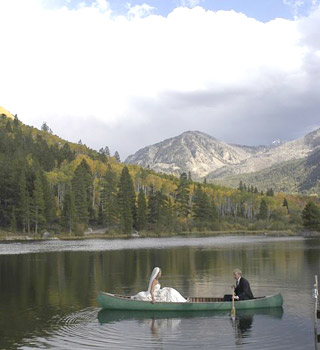 At 6 p.m., they retreated to a tented reception, where Tim Allen got the fun started with a comedy routine.
Dinner, served at tables decorated with hundreds of candles, red roses, dahlias and vernaculars, included heirloom beets with raspberry vinaigrette, Colorado bass crusted with crab, and beef filets topped with toasted onions and baby carrots.
The couple shared their first dance to "Unchained Melody" and were toasted by Costner's daughters from a previous marriage. An a capella group and band from Los Angeles provided music. Costner's pal, country singer Clay Walker also serenaded the couple with a live performance.
Dessert was a four-tier chocolate truffle layer cake frosted in pale cream with a scalloped lace effect.
On 5/6/07 Kevin Costner and wife Christine welcomed their son Cayden Wyatt. This is the couple's first baby. On 2/9/9, it was another boy - and on 6/2/10, a girl for the couple.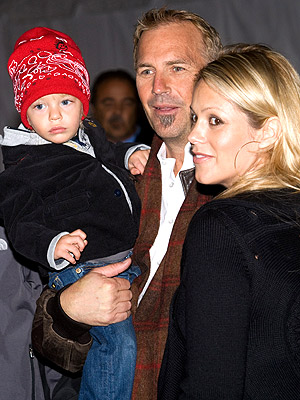 Happy young family! And Happy 8th Anniversary to all of them!
P.S.:  To all of you who are planning to get married, are located in the greater SF Bay Area AND dream of such a beautiful, unique wedding as this one here – my company, A Day Like No Other – Wedding Coordination and Design will make it a reality! Check out "My Portfolio" and contact me  at jutta@daylikenoother.com – I'd love to hear from you!