Well, I hear you say… two hundred and eighteen years?! Is that really still relevant? Why?
I'll tell you why.
Not because Napoleon is, well, Napoleon, and a historic figure and a celebrity. But because this is one of the great love stories in history, like Caesar and Cleopatra. Napoleon's and Josephine's marriage was difficult, and it ended in divorce – yet, the two never ever ceased to love one another, to their last breath. And that is – why…
Everyone knows who Napoleon is, right? But Josephine – let's recap. When he met her, she was a young widow with two children and six years his senior. Josephine, nee Tascher de Pagerie, was the daughter of a landowner in the French overseas colony of Martinique. When she was 15, their parents arranged her first marriage to Alexandre de Beauharnais whom she had never met (but whose family fortune would save her parents' strained financial circumstances). The marriage was unhappy, but Josephine dutifully bore her husband two children (through whom she would become the founder of the royal houses of Scandinavia, among others). The times were politically difficult. After the French Revolution, the Reign of Terror clamped down on the wealthy upper class – and Josephine's husband ended under the guillotine. Josephine herself was imprisoned, too, and only survived by luck. The year was 1795, and Josephine was 32.
She was young, ambitious, and pretty; of average height, svelte, shapely, with silky, chestnut-brown hair, hazel eyes, and a rather sallow complexion. Her nose was small and straight, and her mouth was well-formed (however she kept it closed most of the time so as not to reveal her bad teeth). She was praised for her elegance, style, and low, "silvery", beautifully modulated voice. She was definitely not going to spend the rest of her life mourning her first husband.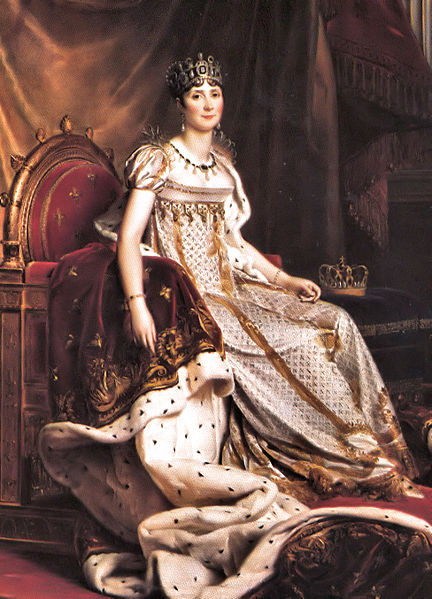 Following his death, she had a couple of affairs with political figures of the day – and was introduced to the rising star among them all: Napoleon Bonaparte, a dashing young military leader, who fell for her head over heels.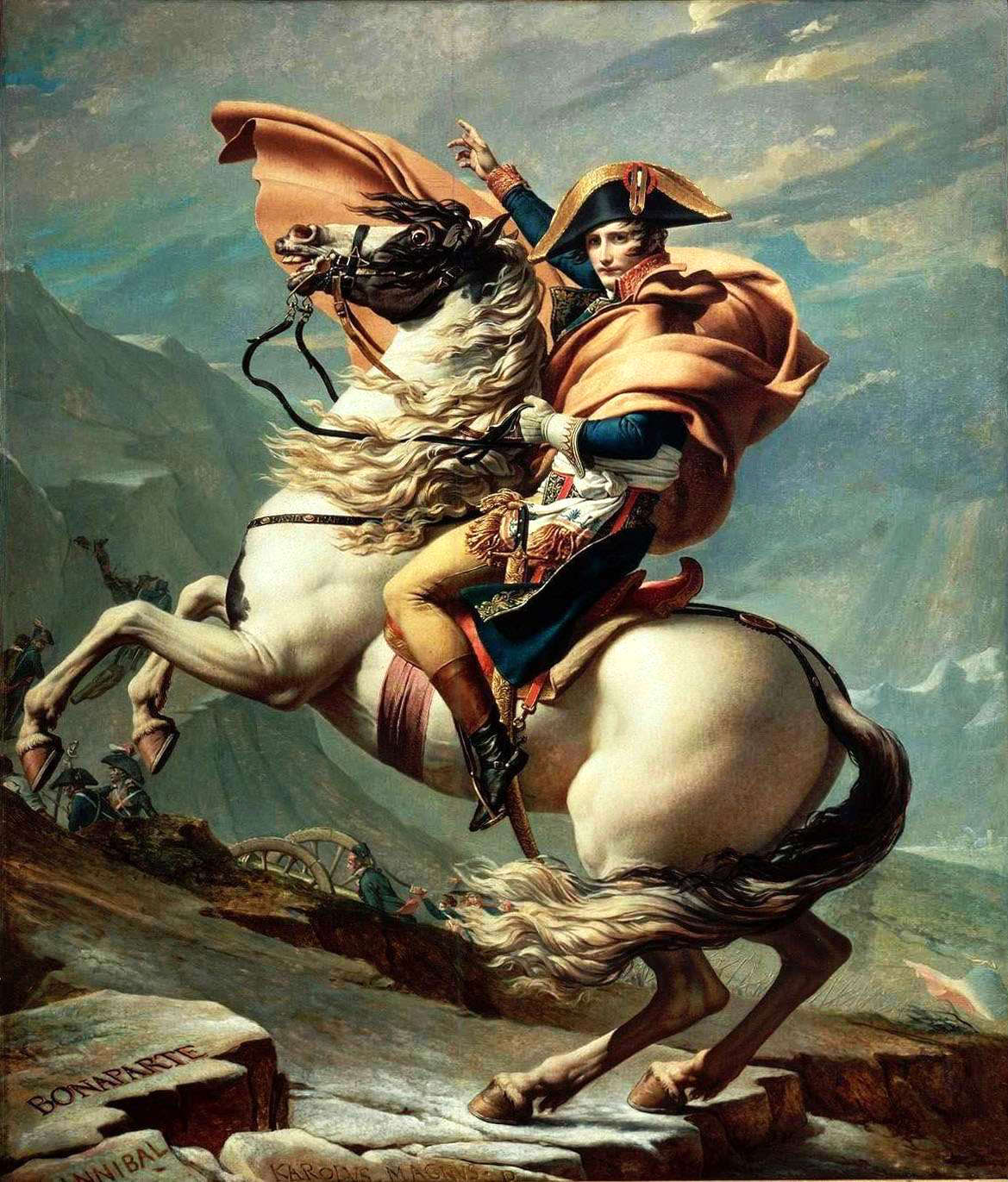 She became his mistress very soon. In a letter to her in December, he wrote, "I awake full of you. Your image and the memory of last night's intoxicating pleasures has left no rest to my senses."  Until meeting Bonaparte, she was known as Rose, but Bonaparte preferred to call her Joséphine, the name she adopted from then on.
In January 1796, Napoléon Bonaparte proposed to her with a very unusual ring: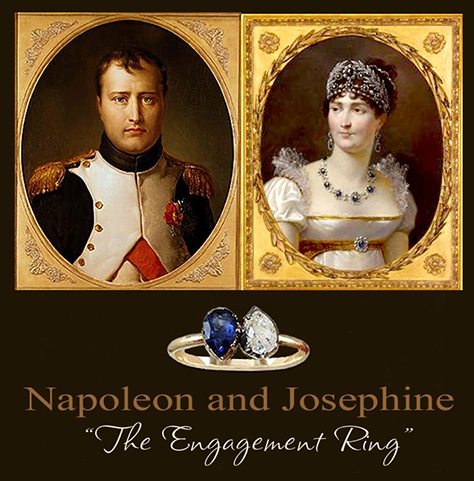 … and they married on March 9, 1796.
The marriage was not well received by Napoléon's family, who were shocked that he had married an older widow with two children. His mother and sisters were especially resentful of Joséphine as they felt clumsy and unsophisticated in her presence.
No painting exists of their wedding, but following the fashion of the day, Josephine will have worn a dress like this: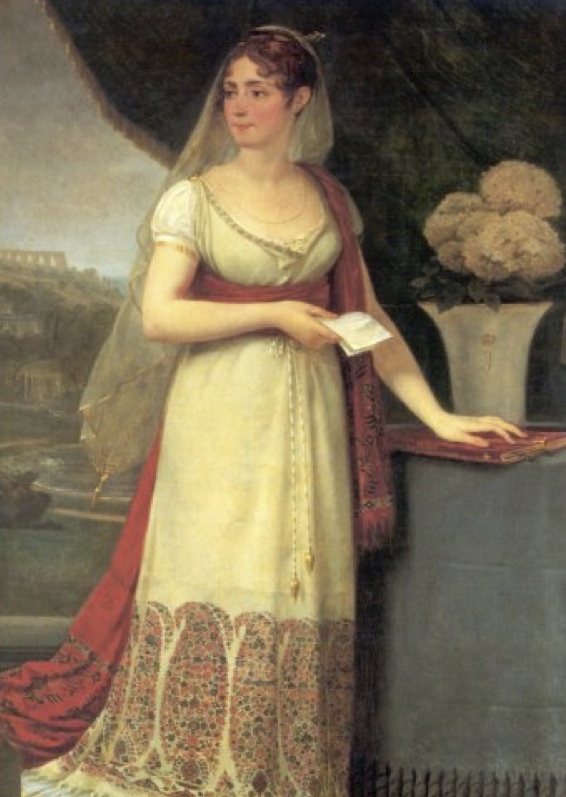 … and since she loved violets, that's the bouquet she will have carried: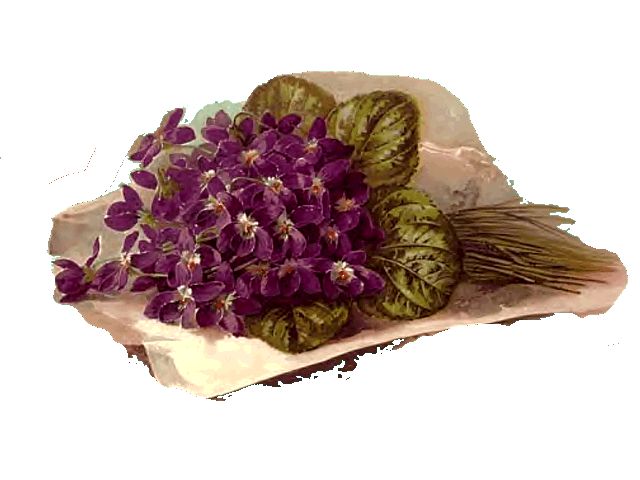 And here is their marriage certificate:

Honeymoon? Oh no. Two days after their wedding, the young General Bonaparte left for the French campaign in Italy. During their separation, he sent her many love letters. In February 1797, he wrote: "You to whom nature has given spirit, sweetness, and beauty, you who alone can move and rule my heart, you who know all too well the absolute empire you exercise over it!"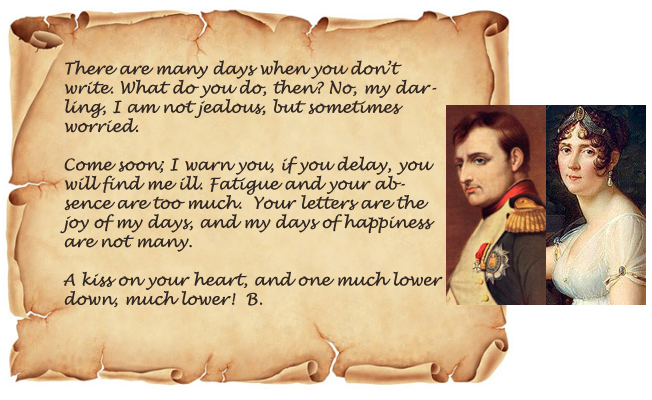 Joséphine, left behind in Paris, began an affair in 1796 with a handsome Hussar lieutenant, Hippolyte Charles. Rumors of the affair reached Napoléon; he was infuriated, and his love for her changed entirely.
In 1798, Napoléon led a French army to Egypt. During this campaign, Napoléon started an affair of his own with Pauline Fourès, the wife of a junior officer, who became known as "Napoléon's Cleopatra." The relationship between Joséphine and Napoléon was never the same after this. His letters became less loving. No subsequent lovers of Joséphine are recorded, but Napoléon had affairs with several other women. In 1804, he said, "Power is my mistress." That would have been the end to the relationship, one would think… but there was a bond between husband and wife that proved indestructible. 

Napoleon kept giving Josephine exquisite presents, among others a tiara that would be handed down to present-day royalty: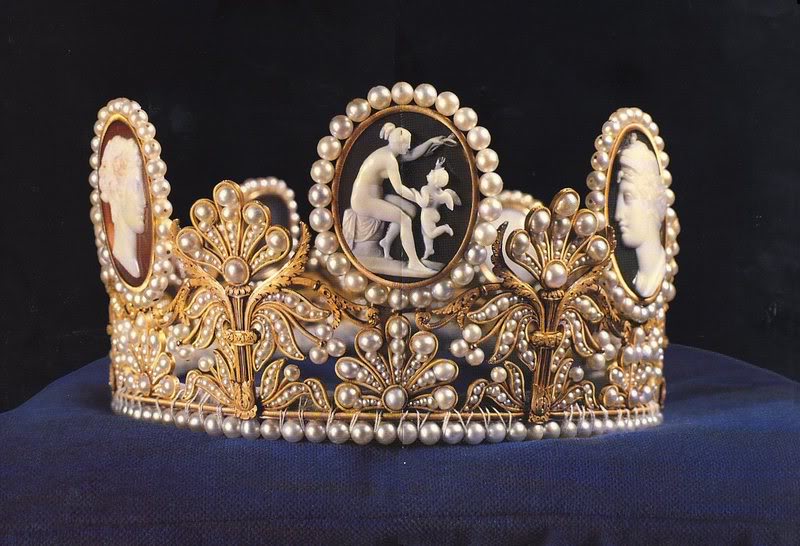 And here is Queen Sylvia of Sweden, wearing it: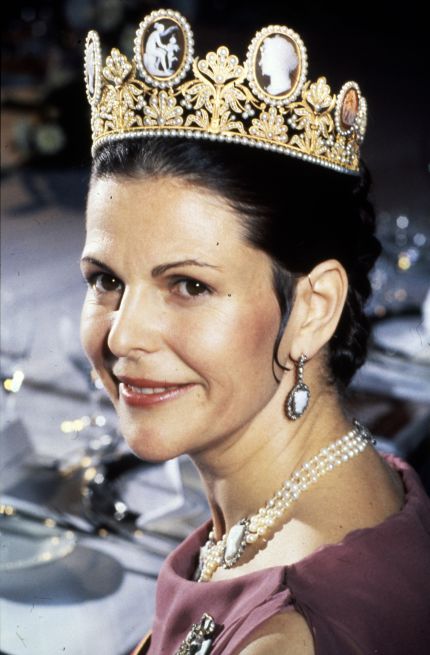 In 1804, Napoleon crowned himself Emperor of France, an act that cost him a lot of sympathies. So far he had kept the image of the youthful, invincible liberator of peoples from oppressive regimes, and now he moved over to the side of the oppressors himself (Ludwig van Beethoven, one of his most ardent admirers, had dedicated his third symphony to Napoleon. When he heard of the coronation, he felt personally betrayed, flew into a rage – something he was infamous for – and erased the dedication so violently that it left a hole in the first page of his symphony score. The symphony became subsequently known as the "Eroica" or heroic symphony).
The coronation ceremony, officiated by Pope Pius VII, took place at Notre Dame de Paris, on December 2, 1804. Following a pre-arranged protocol, Napoléon first crowned himself, then put the crown on Joséphine's head, proclaiming her empress. In David's painting, she is kneeling in front of Napoleon.
By then it had become clear that Josephine could not have a child. Napoléon while he still loved Joséphine, began to think very seriously about the possibility of divorce. The final die was cast when Joséphine's grandson Napoleon Charles Bonaparte who had been declared Napoléon's heir, died of croup in 1807. Napoleon began to create lists of eligible princesses. At dinner on November 30, 1809, he let Joséphine know that — in the interest of France — he must find a wife who could produce an heir. From the next room, Napoléon's secretary heard her screams.
In the end, Joséphine agreed to the divorce so the Emperor could remarry in the hope of having an heir. The divorce ceremony took place on January 10, 1810, and was a grand but solemn social occasion, and each read a statement of devotion to the other.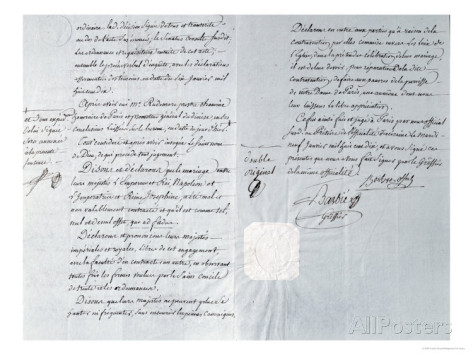 On March 11, Napoléon married Marie-Louise of Austria by proxy; the formal ceremony took place at the Louvre in April. Napoléon once condescendingly remarked after marrying Marie-Louise that "he had married a womb." Even after their separation, Napoleon insisted Josephine retain the title of empress. "It is my will that she retain the rank and title of empress, and especially that she never doubt my sentiments, and that she ever hold me as her best and dearest friend."
After the divorce, she remained on good terms with Napoléon, who once said that the only thing to come between them was her debts. She lived at the Château de Malmaison, near Paris, which she had bought while Napoleon campaigned in Egypt in 1799.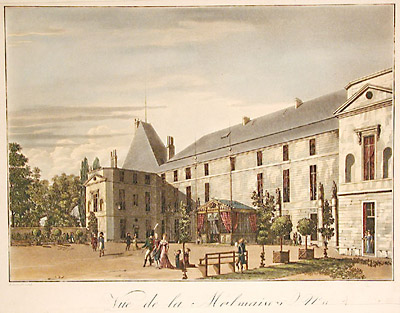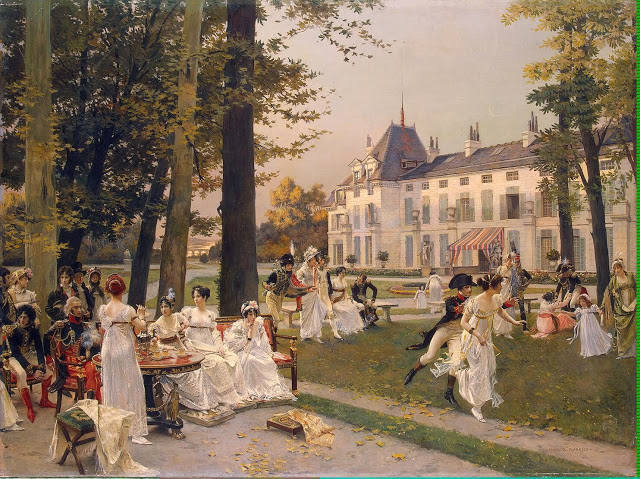 She had had  it landscaped in an "English" style, hiring landscapers and horticulturalists from the United Kingdom. Inspired by her horticulturist's love of roses, a rose garden was begun soon after purchase. Josephine took a personal interest in the gardens and the roses and learned a great deal about botany and horticulture from her staff. Josephine wanted to collect all known roses, so Napoleon ordered his warship commanders to search all seized vessels for plants to be forwarded to Malmaison. Pierre-Joseph Redouté was commissioned by her to paint the flowers from her gardens. Les Roses was published 1817-20 with 168 plates of roses; 75-80 of the roses grew at Malmaison.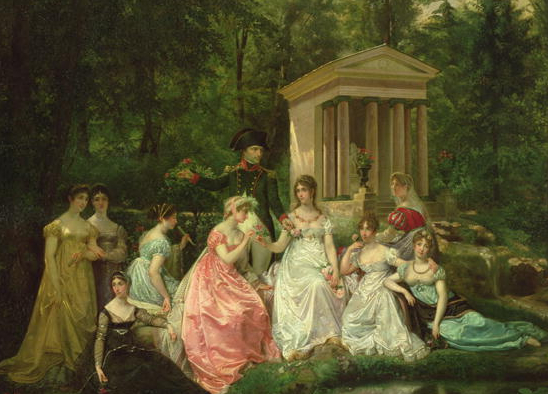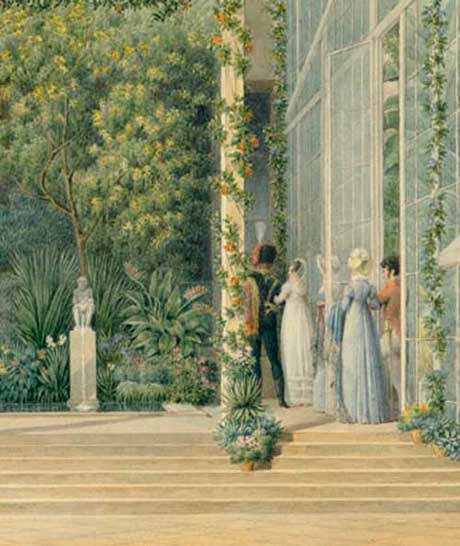 Josephine's beloved rose garden has survived – here is what it looks like today: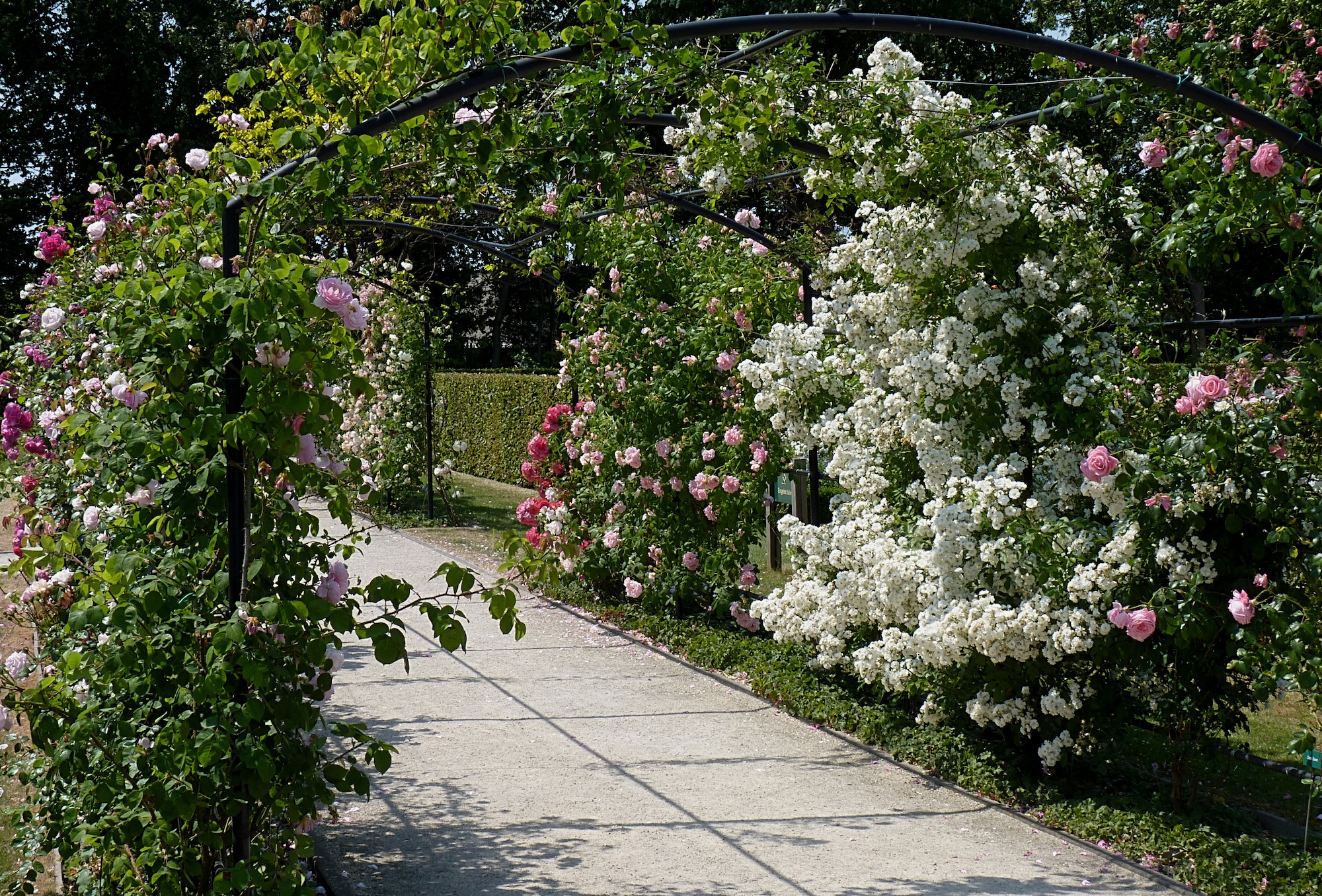 Joséphine died of pneumonia in Rueil-Malmaison on May 29, 1814, four days after catching a cold during a walk with Tsar Alexander in the gardens of Malmaison. She was buried in the nearby church of Saint Pierre-Saint Paul in Rueil.
Napoleon's fates, by then, had long taken a turn for the worse – he had been exiled to Elba where he  learned of her death via a French journal. He stayed locked in his room for two days, refusing to see anyone. He claimed to a friend that "I truly loved my Joséphine, but I did not respect her." Despite his numerous affairs, eventual divorce, and remarriage, the Emperor's last words on his death bed in St. Helena were: "France, the Army, the Head of the Army, Joséphine."("France, l'armée, tête d'armée, Joséphine").
What a love…
Later life and death[edit]
In March 1811 Marie Louise delivered a long-awaited heir, to whom Napoleon gave the title "King of Rome". Two years later Napoleon arranged for Joséphine to meet the young prince "who had cost her so many tears".
Descendants[edit]
Hortense's son became Napoléon III, Emperor of the French. Eugène's son Maximilian de Beauharnais, 3rd Duke of Leuchtenberg married into the Russian Imperial family, was granted the style of Imperial Highness and founded the Russian line of the Beauharnais family, while Eugene's daughter Joséphine, married King Oscar I of Sweden, the son of Napoléon's one-time fiancée, Désirée Clary. Through her, Joséphine is a direct ancestor of the present heads of the royal houses of Belgium, Denmark, Greece, Luxembourg, Norway and Sweden and of the grandducal house of Baden.
Through the Leuchtenberg inheritance, the Norwegian royal family holds Josephine's emerald and diamond tiara[12] while the Swedish royal family holds her sapphire parure,[13] amethyst tiara[14] and the Cameo tiara, worn by Sweden's royal brides.[15]
Another of Eugène's daughters, Amélie de Beauharnais von Leuchtenberg, married EmperorPedro I of Brazil (also former king Pedro IV of Portugal) in Rio de Janeiro, and became Empress of Brazil, and they had one surviving daughter
Time journalist Nathalie Alexandria Kotchoubey de Beauharnais, was a direct descendant of Joséphine through her son Eugène and the Russian line founded by Josephine's grandson Maximilian de Beauharnais, 3rd Duke of Leuchtenberg. She married André Laguerre, longtime managing editor of Sports Illustrated in 1955 and had two daughters, Michèle and Claudine.[16]
Nature and appearance[edit]
Biographer Carolly Erickson wrote, "In choosing her lovers Rose [Josephine] followed her head first, then her heart",[17] meaning that she was adept in terms of identifying the men who were most capable of fulfilling her financial and social needs. She was not unaware of Napoleon's potential. Joséphine was a renowned spendthrift and Barras may have encouraged the relationship with Général Bonaparte in order to get her off his hands. Josephine was naturally full of kindness, generosity and charm, and was praised as an engaging hostess.
Joséphine was described as being of average height, svelte, shapely, with silky, chestnut-brown hair, hazel eyes, and a rather sallow complexion. Her nose was small and straight, and her mouth was well-formed; however she kept it closed most of the time so as not to reveal her bad teeth.[18] She was praised for her elegance, style, and low, "silvery", beautifully modulated voice.[19]
Patroness of roses[edit]
<! DL 06/02/12: Added html code for Pinterest Pin It button (appears at the end of each post) > <! DL 06/02/12: Added padding style modifier to the Pinterest html code to align the Pit It button on the page > <! DL 06/02/12: deactivated code by adding two ! in the a and img code lines >